Table of Contents
Are you contemplating purchasing a condo in the vibrant District 15 of Singapore? We'll guide you through the salient features of three newly launched projects in this prime location – Grand Dunman, The Continuum, and Tembusu Grand.
These condos lie in close quarters, making it essential for prospective buyers to discern their differences. Here's a succinct overview of the unique aspects of each development, though more comprehensive reviews can be discovered at Stacked Homes.
1. Grand Dunman: A Mega-Development
Grand Dunman is more than just another condominium. It's an expansive mega-development that redefines the urban living experience. Consisting of a whopping 1,008 units and set over a generous plot of 272,000 sq ft, it is an exemplar of high-density living right in the heart of District 15.
The development's crowning glory is its one-to-one car park ratio – a rarity in the Singaporean property landscape and an enormous plus for residents who own cars. With convenient parking, residents can enjoy the ease of direct access to their vehicles, reducing the daily hustle of finding parking spaces in a busy district.
Further strengthening Grand Dunman's appeal is its superior connectivity. Situated a stone's throw away from the MRT stations, residents can easily commute to the city center and other parts of Singapore. This prime location ensures a seamless and comfortable daily commute, appealing to both the working professional and the casual city explorer.
Worries about overcrowding due to the large unit count are assuaged by the careful planning of the developers. They have gone above and beyond to provide high-quality facilities that cater to the diverse needs of its residents. From state-of-the-art gyms and tranquil pools to dedicated play areas for children and lush gardens for tranquil walks, Grand Dunman ensures its residents never have to compromise on lifestyle amenities.
The extensive unit count also has a beneficial impact on the maintenance costs. With more residents to share the costs, ongoing maintenance expenses are expected to be significantly more manageable, an appealing prospect for homeowners mindful of additional monthly outlays.
However, such high-density living might bring with it a couple of potential downsides. The sheer number of units might lead to a decrease in exclusivity and could pose a challenge in attracting tenants due to intensified competition. Still, Grand Dunman holds a significant advantage over its competitor, The Continuum, in terms of pricing. The higher unit count allows for more competitive prices, potentially drawing in cost-conscious investors and buyers.
Grand Dunman's units themselves are thoughtfully designed to maximize comfort and efficiency. Though the dining areas in equivalent-sized units may be more compact than those in The Continuum or Tembusu Grand, the layouts have been cleverly optimized to provide a balanced living and dining space.
In terms of location, Grand Dunman is a clear winner. Not only does it provide excellent public transport connectivity, but it is also within walking distance of the Old Airport Road food center, one of the most popular food havens in Singapore. This accessibility to a wide array of local culinary delights adds another layer to the vibrant lifestyle offered by this mega-development.
To sum it up, Grand Dunman is not merely a condominium, it's a lifestyle haven offering connectivity, diverse facilities, competitive pricing, and a balance of high-density living with efficient spatial design. It's an investment that promises an urban living experience like no other in District 15.
2. The Continuum: A Harmonious Blend of Tradition and Modernity
Distinctive in its offering, The Continuum, situated in the heart of District 15, isn't merely a residential project—it's a piece of art that blends freehold tenure with innovative design. As the only freehold project among the trio, it holds a unique position, attracting discerning buyers who value permanence in their investments.
The design of The Continuum is a testament to architectural innovation. The development is bisected by a public road, dividing it into two separate sections, each brimming with its own comprehensive set of amenities. This ingenious design decision results in a decongested ambiance despite housing a substantial 816 units, fostering a sense of tranquility amidst the city's hustle and bustle.
At its heart, The Continuum features dual clubhouses—a heritage-rich Thiam Siew clubhouse and a modern counterpart—offering residents a unique blend of the old and the new. This mix extends to its dining facilities too. From traditional eateries serving local delicacies to contemporary dining spots offering international cuisines, residents are spoilt for choice when it comes to gastronomic adventures.
The floor plans at The Continuum have been strategically crafted to cater to the modern lifestyle. They strike a perfect balance between space efficiency and aesthetic appeal. Especially noteworthy are the three-bedroom units, praised for their square, adaptable layout that allows residents to customize their space to fit their unique needs and preferences.
The Continuum's freehold status usually nudges its pricing above the others. While this might be a point of contemplation for some, for long-term investors, the eternal ownership aspect outweighs this cost difference. After all, the purchase of a freehold property is more than just acquiring a space; it's about investing in a legacy that can be passed down through generations.
The project's location might present a slight challenge, as it entails an exposed walk to the nearest MRT station. However, the development's proximity to the Katong lifestyle stretch and other amenities offers an alternative attraction. The Continuum is perfect for buyers who prioritize lifestyle conveniences like shopping centers, boutiques, cafés, and top-notch schools over immediate public transport connectivity.
In essence, The Continuum is more than a condominium—it's a harmonious blend of freehold tenure, innovative design, and a lifestyle enriched with heritage and modern comforts. Its appeal extends beyond its structures and amenities to offer a unique proposition—a chance to invest in a piece of timeless property in Singapore's prestigious District 15. It's an investment opportunity that promises more than just a return—it promises a legacy.
3. Tembusu Grand: An Urban Oasis Curated for Every Lifestyle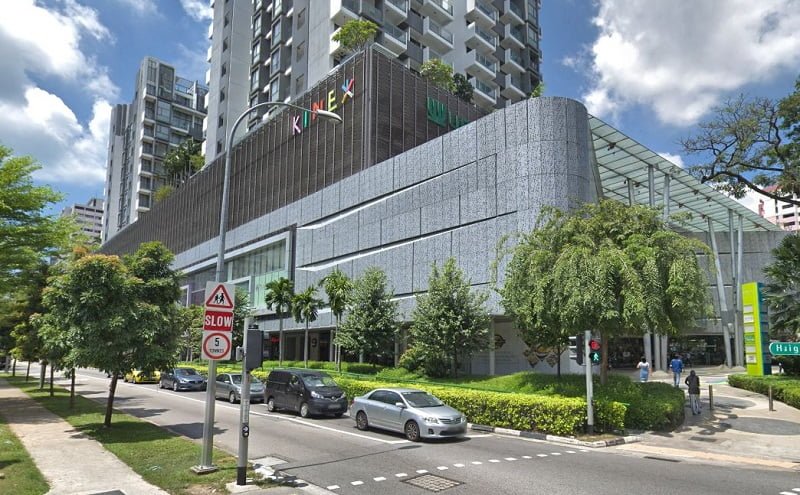 Tembusu Grand stands out as a balanced development that doesn't just offer a place to live but curates an environment that caters to every lifestyle. It's a moderately-sized development nestled in the heart of District 15, accommodating 638 units across four blocks and spanning nearly 211,000 sq ft.
The most compelling aspect of Tembusu Grand is its wide range of facilities, numbering at an impressive 41. This variety targets a diverse demographic, providing something for everyone, irrespective of age or lifestyle. From state-of-the-art fitness centers to serene green spaces, it's a residence that guarantees a rewarding lifestyle.
Special emphasis has been placed on child-friendly amenities, making Tembusu Grand an ideal choice for families. Whether it's secure play areas, engaging activity centers, or educational facilities, this development ensures your little ones have everything they need to learn, grow, and enjoy themselves right at home.
One of the most significant highlights of Tembusu Grand is its one-to-one car park ratio, much like the Grand Dunman. This feature ensures residents have immediate and secure parking, enhancing convenience for car owners.
Furthermore, it's the closest development to an MRT station among the three, a factor that significantly boosts its attractiveness. This proximity ensures that commuting to different parts of Singapore is a breeze, making it an appealing choice for those who prioritize public transport connectivity.
When it comes to layouts, Tembusu Grand's three-bedroom units stand out. While slightly less efficient than their counterparts in Grand Dunman and The Continuum, they are aptly squarish and can be tailored to suit individual needs, ensuring every square foot is put to optimal use.
Pricing-wise, Tembusu Grand offers a balance between The Continuum's higher cost attributed to its freehold status and Grand Dunman's lower price due to its higher unit count. This balanced pricing strategy coupled with its varied facilities, strategic location, and efficient layouts make Tembusu Grand a tempting investment proposition for discerning buyers.
In essence, Tembusu Grand is more than just a residential development; it's an urban oasis that guarantees a rewarding lifestyle to its residents. From its strategic location to varied amenities and competitive pricing, it's an investment opportunity that offers both a luxurious lifestyle and strong growth potential. It's the ideal choice for those seeking a balanced and enriching living experience in Singapore's vibrant District 15.
Location: Evaluating Condo Locations in District 15: Grand Dunman, The Continuum, and Tembusu Grand
While the prospect of purchasing a condo in District 15 of Singapore is enticing, the distinct characteristics of each development—Grand Dunman, The Continuum, and Tembusu Grand—need careful evaluation. This article delves into the strategic location of each, examining the potential benefits and drawbacks to help you make an informed decision.
Grand Dunman: A Hub of Connectivity
The Grand Dunman offers an unbeatable advantage in terms of public transport connectivity. Located near several MRT stations, residents enjoy swift and convenient commutes to various parts of Singapore. Moreover, it is also in close proximity to the Old Airport Road Food Centre, making it an ideal choice for food enthusiasts.
Pros:
Superior public transport connectivity
Close to a renowned food centre
Cons:
Higher unit count can potentially lead to overcrowding
Increased competition for tenants due to the high density
The Continuum: Embracing the Katong Lifestyle
The Continuum is situated near the renowned Katong lifestyle stretch, providing residents with a myriad of conveniences and attractions. While it necessitates an open-air walk to the nearest MRT station, this slight downside is balanced by the array of shopping centers, boutiques, cafés, and top-notch schools within the vicinity.
Pros:
Freehold status, a preferred choice for long-term investors
Located near Katong lifestyle stretch with plenty of amenities
Cons:
Open-air walk to the nearest MRT station
Higher price tag due to freehold status
Tembusu Grand: Striking the Perfect Balance
Tembusu Grand takes the crown when it comes to proximity to an MRT station, making it an appealing choice for those who prioritize public transport. While it may not be as close to lifestyle amenities as The Continuum, it compensates with a robust array of internal facilities, ensuring residents have everything they need within the development itself.
Pros:
Closest to an MRT station among the three
Balanced pricing with comprehensive facilities
Cons:
Fewer lifestyle amenities in the immediate vicinity
Slightly less efficient layouts in equivalent units
Conclusion on Location
Deciding between Grand Dunman, The Continuum, and Tembusu Grand isn't straightforward—each boasts unique selling points that appeal to different buyer preferences. Therefore, potential buyers must balance their desires and needs concerning property density, convenience, tenure, facilities, and layout. Comprehensive reviews, in-depth analysis of price, location, density, and lifestyle preferences can significantly aid this decision-making process.
Remember, investing in real estate in Singapore can be rewarding, but diversifying with assets like dividend funds could also offer a sustainable source of passive income. Always weigh all your options and consider seeking professional advice to make the best decision for your financial future.
Wrapping Up
Choosing between Grand Dunman, The Continuum, and Tembusu Grand boils down to your individual priorities around property density, convenience, tenure type, facilities, and layout. We recommend diving deeper into each project's intricacies and weighing factors like price, location, and density before taking the plunge.
Despite Singapore's attractive real estate landscape, we'd be remiss if we didn't mention the allure of investing in dividend funds as a viable path toward sustainable passive income. This approach can yield steady returns and long-term growth potential. Are these projects igniting your interest or are you still exploring the wider property market in the area?
How can we help?
Choosing the right investment is a critical decision. At Finance Made Simple, we specialize in helping property investors like you unlock the immense potential of earning passive income.
Our passive income strategies are meticulously designed to offer an annual return rate of 4% to 6%. We have an extensive clientele who have invested $750,000 and are experiencing impressive results. But it's not just about the numbers. It's about building a secure financial future with a steady income stream.
We believe in the power of informed investing and providing personalized assistance. No matter your investment size or goals, we're here to help you make the best financial decisions.
Don't wait to start your journey to financial freedom. Book a call with Ben today to learn how you can create a robust passive income using our tried-and-true strategies. Hundreds of our clients have already started their journey; it's time for you to join them.
With us, your financial growth is in safe hands. Take the first step towards a secure, prosperous future today.
---
Don't forget to subscribe to FMS Financial Insights for weekly updates and professional insights to aid your financial decisions. If you're ready to start generating passive income via dividend funds, you can book a call with Ben to find out more.
Interested in more financial wisdom? Check out our comprehensive guides on choosing an investment brokerage and building a passive income.
You'll be glad you did!